How AI-powered technology is shaping the future of business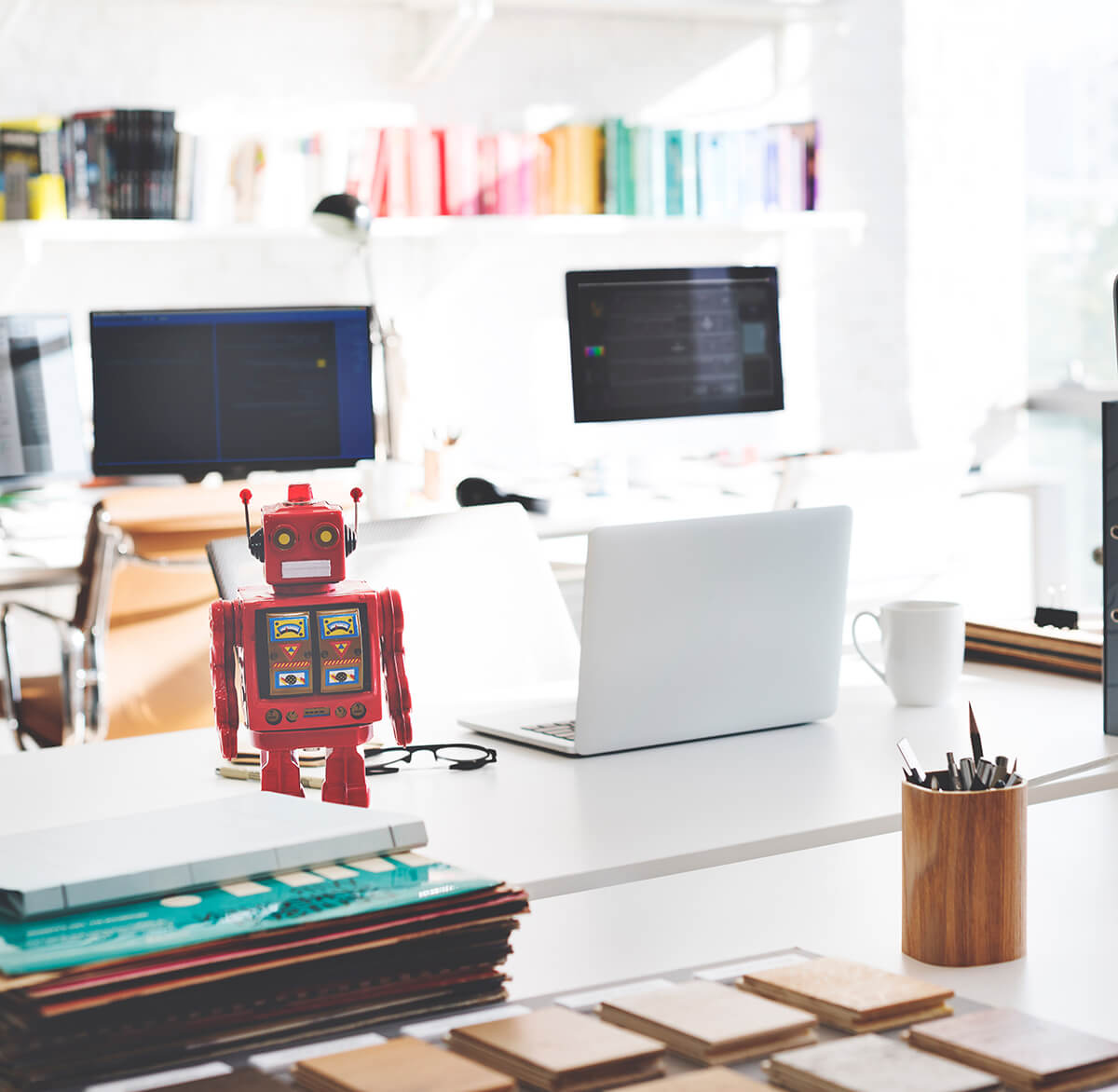 Artificial intelligence (AI) in the workplace is revamping many processes both in service and production. It is redesigning whole industries and transforming our economy.
From how we interact with brands as customers to how we carry out hiring processes and execute tasks, AI technology in the workplace is driving digital transformation.
Leadership in the digital age requires a solid understanding of the prominent role that task automation will play in the years to come.
By complementing human labour, machines are contributing more and more to productivity and, to economic growth. This isn't limited to those who work for tech companies. AI technology is going to impact everyone's day-to-day tasks.
Let's take a look at how smart technologies are enabling change in individuals, workplaces, and industries.

Table of Contents
Chatbots And Conversational AI
A chatbot is a software powered by artificial intelligence, capable of simulating a natural dialogue with a human speaker. The communication can be carried out through various mediums, such as on the phone, websites, or mobile apps.
Chatbot applications use machine learning systems to understand user intention and return a response that mimics human interaction. The scenarios covered by these conversations include, for the most part, sequences of questions (either closed or open-ended) and answers.
Organizations are leveraging chatbot technology to streamline their customer service and hiring processes, to generate leads, boost conversions, and, ultimately, to lower their costs and drive revenue growth.
Some of the functions that have greatly benefited from the adoption of chatbots include:
Human Resources

Customer Service

Operations/Production

Sales & Marketing

IT
Human Resources
Businesses that choose to include chatbots into their day-to-day activities can significantly simplify their recruitment and HR processes.
One way conversational AI contributes to the scope of HR is by automating certain stages in recruitment. Candidates can talk to a chatbot which pre-screens applicants, so that only those who are qualified make it to the interview stage.
Other uses of chatbots in HR include the automatic scheduling of interviews, making recommendations for specific positions based on candidates' input, and even assisting with the onboarding process for new hires.
UK's leading chatbot company Ubisend offers bespoke conversational solutions specifically designed for recruiters.
The company estimates that by deploying a chatbot, HR staff can save, on average, 43% of the time spent on frontline tasks.
In addition to this, companies that implement conversational AI to automate HR tasks are reported to reduce costs by £134,000 in the first year.

Customer Service
Deployment as part of a customer experience strategy is one of the most popular uses for chatbots. Their range of capabilities turn smart bots into ideal personal assistants for customers.
Besides being able to take customer queries 24/7, chatbots eliminate tedious tasks from CS teams' agenda. While agents remain available at all times for more complex inquiries, repetitive questions can be automated to be handled through AI technology.
Another advantage is the scalability of conversational AI. Once you've maximised your main channel of communication (be it email, an app, or your website), you can then develop a cross-channel strategy.
For example, SAP Conversational AI enables companies to leverage NLP technology to build smart chatbots in any language, which they refer to as "conversational agents".
The technology can be integrated not only with their own systems, but any external communication channel, including Facebook Messenger, Skype, Telegram, Slack, Kik, to name a few.

Operations/Production
In manufacturing industries, chatbots are used to boost efficiency and provide valuable insights about the supply chain, products and processes, as well as customers.
There are a number of ways in which AI can serve the manufacturing sector. First, chatbots can be deployed to perform database queries.
This allows managers to easily keep tabs on the unit's inventory both in and out of stock, and check the status of purchase orders. As a result, companies can drastically reduce waste by not overstocking.
Second, smart chatbots boost safety and productivity on the production floor. They work alongside monitoring systems, providing an accessible way to make queries.
Traditionally, maintenance teams would assess the equipment performance on a regular basis. But for the metrics to be accessed, the teams needed to be connected to the IT systems at all times.
Chatbots provide a platform where information is centralized and readily available. This reduces bottlenecks and increases reaction time in case something goes wrong.
Intelligent bots have shown great potential for automation in quality control and maintenance, as well. Managers can use the insights from AI-driven analytics software to identify bottlenecks on the production line and solve inefficiencies.
One of the most prominent examples of bots for manufacturing units is Softweb Solutions' supply chain management system.
Their solutions provide real-time reports and updates on the manufacturing process, production line outputs, order fulfillment and delivery, and goods returned.
They also integrate seamlessly with the company's software, as well as all major messaging apps.

Sales & Marketing
The following stats were revealed in a study conducted by leading European technology company Eptica on 500 U.S. retailers.
The average time for companies to respond to email queries by customers is slightly under 8 hours. This may sound like a reasonable amount of time.
However, the same study showed that the overwhelming majority of consumers would find the ideal waiting time to be no more than 6 hours.
Customers are set for even bigger disappointments when it comes to Facebook interactions with brands. Facebook response times spike to 1 day, 3 hours and 47 minutes. Waiting that long for a reply isn't going to cut it in the digital era.
Intelligent chatbots enable community managers and salespeople to automate interactions with their audience. They can be programmed not only to provide customer service, but also to monitor purchasing patterns and to generate data-driven consumer insights.
HubSpot's chatbot tool allows marketers and salespeople to scale up their one-to-one live chats. As a result, live agents can take over conversations with leads who have already been qualified for marketing or sales purposes.
As an added benefit, all the data collected through the chatbot is automatically updated in HubSpot's CRM. By syncing this information with the CRM, the entire team gets a clear picture of every deal and where each contact is in the buyer's journey.

IT
Another potential use of AI chatbot software is in IT Service Management (ITSM). Minor or routine incidents can now be handled by chat robots instead of burdening human agents. In this way, human IT help desk agents are able to focus on more complex tasks.
Besides increasing productivity, chatbots enhance customer satisfaction. They can be deployed to increase resolution time for simple queries and to offer 24/7 availability.
Drawing on data from previous interactions, chatbots are designed to evolve with each encounter. Machine-learning technology makes it easy for IT departments to delegate the tedious task of ticket classification to chatbots.
Another key area where artificial intelligence in the workplace comes in handy for IT departments is password reset. This is one of the most common queries raised with the service desk. Automating its resolution has an immense impact on the team's efficiency and productivity.
VSpirits Technologies specializes in chatbot software for almost every area of business. Their automated chat solution for Tech Support and IT Help Desk comprises 3 areas of support.
The online support chatbot assists with solutions for common issues, provides learning materials, and integrates with the CRM to involve human agents in the process.
The self-service chatbot shows customers how to solve problems online by themselves. It provides interactive guidance on issues such as online forms, services, troubleshooting, or management.
The troubleshooting chatbot is designed with workflows that streamline the troubleshooting process. Users are empowered to become more self-reliant and find solutions independently.

AI-Based Machine Vision
That's right, machine vision is a thing. And just as the name suggests, it uses AI to teach machines how to make sense of what they're seeing.
Machine vision is the subject of ongoing research and the stakes are high for both science and industries. If implemented right, it will allow organizations to automate tasks which have so far been too complex for computer systems.
Manufacturing is one of the industries that can reap the most benefits from machine vision advancements.
First, it helps manufacturers improve the predictive maintenance of their production lines. AI-enhanced computers can detect anomalies in the equipment and take action before the damage is done.
Second, machine vision can have a great impact on quality control. Faulty products can be prevented and/or identified in a timely manner, reducing recalls.
An out-of-the-box implementation of machine vision is the Amazon Go Store. Amazon deployed cutting-edge technology to create their Walk Out Shopping experience.
By combining computer vision, sensor fusion, and deep learning, the company created the perfect formula for their Just Walk Out technology.
The sensors in the shop can detect which items are being picked up, identify product ID and keep track of purchases in a virtual cart.
Then, all this information is tracked back to a particular customer based on a stick figure model of the person, the digital invoice is issued and the user's Amazon account is charged.

Transition To Voice-First
Voice-first technology is believed to be the next big disruptor in the context of digital transformation. A 2016 study conducted at Stanford University found that speech is 3 times faster than typing on mobile devices for English and Mandarin.
Imagine the possibilities opened up by the marriage of voice-first technologies with artificial intelligence in the workplace.
In the near future, smart digital workplaces will leverage machine learning to anticipate user intent. Internal systems will be able to process natural language and learn to respond to voice commands.
Consumer giants Apple and Amazon are pioneers of the voice-first paradigm, with Google competing closely through its voice assistant. Google Assistant, Amazon Alexa and Apple's Siri are showing the world the possibilities within the realm of artificial intelligence.
There's no going back from here. Voice assistants are the future of the smart workplace and will revolutionize the way users engage with technology.
If there's any doubt left as to the future of AI in the workplace, here's a fact which is going to dispel it.
According to the 2019 CIO Survey by leading research and advisory company Gartner, "the number of enterprises implementing artificial intelligence (AI) grew 270 percent in the past four years and tripled in the past year."
Despite fears that intelligent machines will be displacing human employees from their roles, the prospects are, in fact, very bright for the future of work.
AI will equip organizations with the right tools to automate tedious tasks, to increase productivity, efficiency, and security. If anything, human workers will be empowered to focus on the human aspects of work.