Digital marketing is always changing and evolving, and that means there are always new channels and strategies to explore. Pay-per-click advertising is one such strategy that has proven time and again to be an effective way to reach and engage your target audience. 79% of marketers say PPC is hugely beneficial for their business as paid advertising returns at least $2 for every $1 spent, which is a 200% ROI rate.
PPC ads support the idea of "spending money to earn more money", but you need a specialized PPC agency to help you achieve remarkable results. And with so many PPC marketing agencies out there, how do you know which one is right for you? In this article, we are going to introduce 13 tips to help you choose the best PPC agency and the guidelines to follow before working with one.
What is PPC Advertising?
It is a form of online marketing in which advertisers pay a fee each time one of their ads is clicked. Essentially, it's a way of buying visits to your site, as opposed to earning them organically through SEO or other types of digital marketing.
PPC can be an effective way to drive traffic to your website, especially if you're targeting high-value keywords. But it can also be expensive, and if you don't know what you're doing, you could end up wasting a lot of money.
That's why it's important to choose a PPC agency that knows what they're doing. A good PPC agency will have experience managing campaigns for businesses in your industry, and they should be able to show you results they've achieved for other clients.
When evaluating PPC agencies, make sure to ask about their portfolio, their process for managing campaigns, and how they measure success. You should also get a sense of their customer service and whether they seem like they would be easy to work with.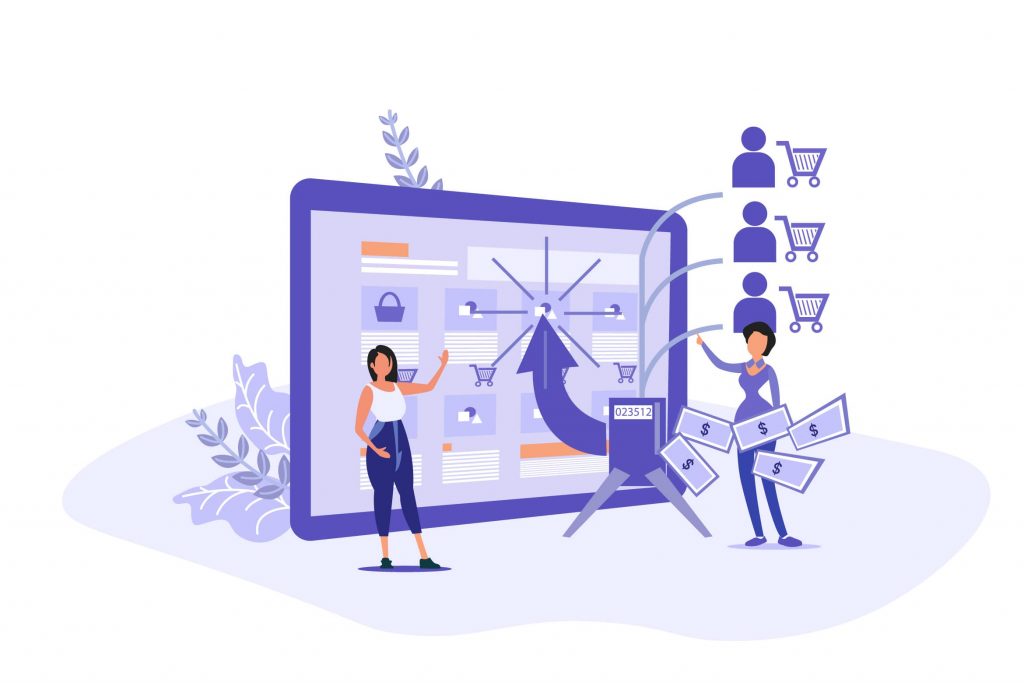 Top 6 Benefits of PPC Advertising
It is a form of online marketing in which advertisers pay a fee to have their ads displayed on a search engine or other website. This type of advertising can be an effective way to drive traffic to your website, no matter the industry your business is in and it can also be used to target specific demographics or interests. Here are five benefits of using PPC advertising:
Fast results – It is great for generating results fast. The better you write your copy and optimize your ad placement and delivery, the sooner you'll sell more.
Increased visibility – When you use PPC advertising, your ads will be displayed on a search engine or other website where potential customers are already looking for information or products. This can help increase the visibility of your business and attract more traffic to your website.
Targeted audience – It allows you to target specific demographics or interests, so you can ensure that your ads are being seen by potential customers who are most likely to be interested in what you have to offer.
Cost-effective – You only pay when someone clicks on your ad, so you can control your budget and get the most out of your PPC marketing dollars.
Flexible – You can adjust your campaigns based on results. If you're not getting the results you want, you can easily make changes to improve your performance.
Measurable – You can track the results of your campaigns and make necessary adjustments to improve your return on investment (ROI).
How Does a PPC Agency Help?
A PPC agency can help your business by managing your pay-per-click advertising campaign. They will work with you to set up your campaigns, choose appropriate tactics, and create ads that are targeted to your customers. The agency will also monitor your campaign and make adjustments as needed to ensure that you are getting the most from your investment.
The main tasks of the agency are creating a strategy, writing copy, choosing ad types, creating visuals, writing, designing and publishing landing pages, optimizing bidding & ad spend, and many more.
As you can imagine, this involves a lot of work. However, most agencies have long-standing experience in handling multiple accounts. Learning all these nitty-gritty details for yourself could be a long and difficult journey, but you can always do your research and work with an experienced agency such as Wesrom.
Before Anything Else, Set Your Goals
Before choosing a PPC agency, you have to know at least what you're looking for. Without a clear and attainable goal, your PPC campaign will lack direction and ultimately be less successful. Start asking yourself questions like: What do I want to achieve with this PPC campaign? Do I want to increase brand awareness, generate leads, or drive sales? Think of your budget, amount of monthly leads, desired channels, if you want your cooperation with the agency to be hands-on or hands-off, etc.
Once you know your goal, you can start looking for an agency that specializes in that area. The best way to find a good one is to ask for referrals from friends or businesses that have used PPC services before. You can also check out online directories like Clutch and UpCity. When you've narrowed down your options, contact the agencies and ask for proposals. Make sure to also read reviews of the agencies before making your final decision. Once you've chosen an agency, sit down with them and discuss your budget and what you expect from the campaign.
Expectations should also be set in stone with the chosen PPC agency before the project begins, but smaller details or adjustments are commonly treated after the project starts, too.
13 Things to Remember When Choosing a PPC Agency
There are a lot of PPC agencies out there. But, there are some general true tips to find the right one for you.
Find an agency that is certified by Google, Bing, or another major search engine. This ensures that they know what they're doing when it comes to PPC.
Make sure the agency has experience with your industry. They should understand your business and what you're trying to achieve with your PPC campaigns.
Check out the agency's case studies. This will show you what kinds of results they have been able to achieve for other clients.
Ask for referrals from other businesses in your industry. Chances are, someone you know has worked with a PPC agency before and can give you a good recommendation.
Make sure the agency is transparent about its pricing. There should be no hidden fees or costs associated with their services.
Ask about the agency's reporting system. You should be able to see how your campaigns are performing regularly so that you can make changes as needed.
Find out if the agency offers any guarantee on results. This shows that they are confident in their ability to deliver results for your business.
Make sure the agency is available to answer your questions and help you troubleshoot any problems you may have with your campaigns.
Get a sense of the agency's culture and values.
If possible, choose an agency that offers flexible payment options.
Ask about the reporting and analytics tools the agency uses.
Inquire about the account management process at the agency.
Determine what kind of customer service the agency offers. Pay attention to how they talk during the meetings, how they write their emails, etc.
However, not all PPC agencies are going to be an ideal choice. Some specialize in Google, others in Facebook, and so on. That's why it is really important to know what you're looking for when picking a shortlist of PPC agency candidates. Our pay-per-click advertising company can help you navigate the technicalities of PPC and effectively integrate it with your SEO and online PPC marketing campaigns. We're experts at multi-channel PPC strategies, and we offer full-service digital marketing.
A Great PPC Agency…
Has a Strategy
A great PPC agency will have a clear and concise plan for your campaign. They will know your goals and target audience, and they will craft a strategy that is tailored to achieving those goals. The best agencies will use data and analytics to inform their decisions and constantly test and optimize their campaigns to ensure they are as effective as possible. You should expect regular reports and communication from your PPC agency so that you can see how your campaigns are performing and make changes as necessary. A great agency will be transparent, honest, and communicative, and they will always be looking for ways to improve your results.
Excels at Keyword Research
Keyword research is one of the most important aspects of any PPC campaign. The right keywords can make or break a campaign, so it's important to choose them carefully. A great PPC agency will have a team of experienced PPC specialists who can help you identify the right keywords for your campaign. They will also be able to help you with negative keyword research to make sure your ads don't show up for irrelevant searches. This is important because you don't want to waste money on clicks from people who are not interested in your product or service.
A great PPC agency will also be able to help you with competitor research. This way, you can see what keywords they are targeting and how they use them in their campaigns. This information can be invaluable in helping you create your winning campaign.
They will also have experience in analyzing search engine results pages (SERPs) to determine which keywords are most likely to result in a conversion for your business. When choosing a PPC agency, ask about their keyword research process and what tools they use. You should also inquire about their experience in analyzing SERPs. This information will help you choose an agency that is best equipped to help you achieve your PPC objectives.
Monitors Analytics
A great PPC agency will have a deep understanding of analytics and how to use it to improve your campaign results. They will closely monitor your campaigns, looking for ways to improve click-through rates, conversion rates, and ROI. They will also be constantly testing new ad copy and strategies to ensure that your campaigns are as effective as possible. If you're working with a good PPC agency, they should be able to provide you with regular reports on your campaign progress and performance. They should also be available to answer any questions you have about your campaigns or analytics in general.
Tracks Consumer Habits
There are a variety of consumer habits that can be tracked by a great PPC agency. This includes things like the time of day that people are searching, what kinds of keywords they are using, and what type of device they are using. The PPC team will look at things like search engine data, social media data, and website analytics. This information can be invaluable in helping you to determine what keywords and ad copy are most effective in reaching your target consumers. Additionally, this data can be used to improve the overall effectiveness of a campaign and make sure that the budget is being spent in the most efficient way possible.
Tests Its Landing Page(s)
A great PPC agency will test its landing pages to ensure that they are effective. The agency will use a variety of methods to test the landing page, including A/B testing and user testing. These pages are highly targeted to specific phrases and demographics, which users will land on after clicking an ad. By testing the landing page, the agency can identify any issues that may be present and fix them before they launch the campaign. This ensures that the campaign will be successful and that the client will see a return on their investment.
Defines Useful KPIs
A great PPC agency should be able to define useful KPIs for your business to help you measure your return on investment (ROI). Some KPIs that a PPC agency may suggest include:
Cost per conversion: This measures how much it costs you to convert a lead into a paying customer.
Click-through rate (CTR): This measures the percentage of people who click on your ad after seeing it.
Average cost per click (CPC): This measures how much you pay, on average, for each click on your ad.
Return on ad spend (ROAS): This measures how much revenue you generate for every dollar you spend on advertising.
By setting and tracking the KPIs, the agency can identify any issues that may be present and adjust for the campaign to be successful.
Leverages Remarketing
A great PPC agency will use remarketing as a way to continue to reach out to potential customers who have visited your site but haven't converted. Remarketing allows you to show ads to these users as they browse the web, and can be highly effective in getting them to come back to your site and convert. Make sure that the agency you choose is experienced in using remarketing as a tool, and ask them about their strategies for reaching out to potential customers through this method.
Optimizes for Mobile
Did you know that 52.2 percent of all website traffic is generated from mobile phones? Mobile devices are now the preferred way for people to access the internet, so it's more important than ever for businesses to have a mobile-friendly website. A great PPC agency will take this into account when optimizing your website for search engines. They'll make sure that your website is responsive and can be easily viewed on a variety of devices as 61 percent of consumers are more likely to purchase from mobile-friendly sites. They'll also ensure that your ad campaigns are targeting mobile users.
Chooses The Right Channel(s)
To be effective, businesses must choose the right PPC channels for their target audience and goals. There are many different PPC channels available, including search engines, social media platforms, and display networks. The best PPC agency will carefully select the channels that are most likely to reach your target audience and generate the desired results. Search engines are often the most effective PPC channel, as they allow you to target users who are actively searching for products or services like yours. Social media platforms can also be highly effective, especially if you target users who are already engaged with your brand. Also, display networks such as Google Display Network, are a good starting point because it's a low-cost mass reach channel with great targeting options.
Always Tests Its Work
The best PPC agencies have a deep understanding of the ever-changing landscape of paid advertising. They keep up with the latest changes in algorithms, understand the nuances of each platform, and are always looking for new opportunities to improve their clients' campaigns. A great PPC agency also has a strong relationship with its clients. They take the time to understand the client's business, their goals, and their target audience.
This allows the agency to create campaigns that are aligned with the client's overall objectives. Finally, a great PPC agency doesn't work in a void. A great PPC agency will test new features and betas as they become available to ensure that their clients are getting the most out of their campaigns. They partner with experts and specialists to ensure that their clients are getting the most holistic and effective marketing approach possible. By working with other experts, they can supplement their knowledge and expertise to create truly successful campaigns.
Analyses The Competition
When you're looking for a great PPC agency, one of the things you should consider is how well they analyze the competition. A good agency will take a close look at who your competition is and what they're doing to stay ahead. They'll also look at your strengths and weaknesses to create a campaign that gives you the best chance of success.
Tests Ad Copy
The best PPC agencies will always test ad copy before implementing a campaign. This allows them to determine which ad copy is most effective in driving conversions. By testing different headlines, descriptions, and call-to-actions, they can find the perfect combination that works for your business.
A/B testing is essential to any successful PPC campaign. It allows you to compare two versions of an ad and see which one performs better. The best PPC agencies will A/B test every aspect of an ad, from the headline to the call-to-action. This ensures that your ads are always optimized for conversion.
Understands Your Company
A PPC agency that understands your company is an invaluable partner in your digital marketing efforts. Such an agency will take the time to learn about your business goals and objectives, and will develop a custom PPC strategy that aligns with those objectives. They'll also be able to provide insights and recommendations based on their extensive experience with other clients. They'll present you the risks and potential challenges associated with your PPC campaign, so you can make an informed decision about whether or not it's the right marketing channel for your business.
Tricks for a Perfect PPC Agency Collaboration
The most important thing to remember is to partner with one that you feel comfortable with and you can trust.
Get on The Same Page
You need to have a good understanding of your own goals and objectives. What are you hoping to achieve with your PPC campaigns? Are you looking to increase brand awareness, drive more traffic to your website, or generate more leads and sales? Once you know what you want to accomplish, be sure to communicate your expectations clearly. This will help ensure that both parties are aligned on deliverables and avoid any misunderstandings down the road.
Inquire About Previous Experience
Once you've narrowed down your list of potential agencies, set up meetings with each one so you can get to know them better and see if there's a good fit. During the meeting, be sure to ask about their experience working with businesses like yours, their approach to PPC, and how they measure success. Check out their past work, case studies, and client testimonials to get a sense of their capabilities and see if they're a good fit for your needs. Read online reviews, ask for referrals from friends or colleagues, and check out the agencies' websites and social media accounts to get a feel for their work and culture.
Standardize & Centralize Communication
As the world of marketing becomes more complex, it's important to have a clear and centralized system for communication between you and your PPC agency. By standardizing communication, you can be sure that everyone is on the same page and working towards the same goals. There are a few things to consider when doing that:
Define roles and responsibilities. Who will be responsible for what tasks?
Set up a regular schedule of communication. This could be weekly or monthly check-ins, or more frequent touchpoints as needed.
Agree on a preferred method of communication. Will you communicate via email, phone, or in person?
Make sure everyone is on the same page. Before starting any work, review objectives and expectations to ensure that everyone is working towards the same goal.
By standardizing communication, you can streamline the process and make sure that everyone is aligned with your goals. This will help to make your partnership with your PPC agency more efficient and effective.
Be Open to Feedback
If you're looking to hire a PPC agency to help with your paid advertising campaigns, it's important to be open to receiving feedback from the agency. As specialists in this field, they will have a lot of insight into what does and doesn't work when it comes to PPC. Of course, you should always be aware of your campaign goals and objectives, but be open to hearing the agency's thoughts on how you can improve your campaigns. They may have suggestions for targeting different keywords or changing your ad copy. Whatever their recommendations may be, consider giving them a try – after all, they are the experts!
But Ask Your Questions Anyway
Whatever questions you have regarding your campaign, ask them and try to understand their point of view.
Be Clear About The Budget
When it comes to budget, be clear about what you are willing to spend every month. Don't be afraid to share your budget with the agency you're considering. A good agency will work with you to find the best way to use your budget to get the most results. Don't forget that you will need to continue to invest in your PPC campaigns even after you have signed on with an agency. Your campaigns will need ongoing care and attention to ensure they are performing at their best. Make sure you factor in these additional costs when making your decision.
Ask For Monthly Reports
You want an agency that is clear and concise in their communication, providing you with regular updates on your campaign progress and results. Look for an agency that uses project management software to keep everyone on the same page. This will help you avoid miscommunication and misunderstandings down the line.
You should also expect detailed reporting from your agency. This will give you visibility into what's working and what's not, so you can adjust your campaigns accordingly. A good PPC agency will also provide insights and recommendations based on their analysis of your data.
PPC Agencies to Consider
Wesrom – Creating a Better Tomorrow
Wesrom offers personalized digital marketing services that help your business advance and attain ROI-positive campaigns. They combine innovative strategy, sophisticated marketing and sales technology to ensure your company gains the digital advantage needed to become or remain a leader in your industry.
X27: B2B PPC Ads Agency & Lead Generation
X27 Marketing offers a full suite of B2B digital marketing services and is specialized in generating valuable leads. They've already closed over $100,000,000 in sales for their clients, with deals ranging from $2K to $2MM+. Their vision is of a world where all quality products and services reach their relevant audiences. All of their clients are carefully selected based on business drivers, desired KPIs, and corporate ideology concepts.
Ignite Visibility
Ignite Visibility is one of the highest recommended agencies on Clutch.co and one of the top digital marketing companies in the industry. Ignite Visibility has used the same strategies they use for clients to become a six-time Inc. 5,000 company. Ignite Visibility offers best-in-class digital marketing strategy, SEO, paid media, social media, email marketing, creative, development, Amazon, CRO, and more. The company has the pleasure of representing over 160 amazing clients such as Office Depot, Tony Robbins, Morgan Stanley, COX, The General, DoorDash, Experian, Morgan Stanley, as well as smaller clients.
Linear
Linear is tasked with improving a graphic design agency's Google and Facebook advertising campaigns, creating new landing pages and graphics, and implementing other efforts to increase conversion rates for clients like US Bank, BairesDev, CoachCare, American Life Fund, Audible Genius, Premier Lipo, Elite Restoration, Castle of Chaos, Stanlick Chiropractic, Bills Comfort Systems.
Other PPC FAQs
1. What Are The Best PPC Channels?
The best PPC channels will depend on the specific goals and objectives of the advertiser. For example, if an advertiser is looking to generate leads, they might want to focus on search engine marketing (SEM) or LinkedIn ads. On the other hand, if an advertiser is looking to increase brand awareness, they might want to focus on Facebook or Instagram ads. The best way to determine which PPC channel will work best for your business is to experiment with different channels and analyze the results.
2. Are PPC Contracts Flexible?
Many PPC contracts are not flexible, and can be quite rigid. This is because PPC agencies need to know exactly how much you are willing to spend to create a campaign that will be effective. If your budget changes, it can throw off the entire campaign. Some agencies may be able to make small adjustments, but if you are looking for a lot of flexibility, you may want to consider working with a freelancer or a smaller agency.
3. Do all Agencies Manage The Same Ad Spends?
Agencies that focus on paid media usually have a team of people who are responsible for managing the ad spend. This team oversees all aspects of an advertiser's budget, from planning to execution to optimization. While there are similarities in how these agencies approach ad spend management, there are also some key differences.
For example, some agencies are better at media buying than others. Some have more experience with certain types of advertising, like search engine marketing (SEM) or display advertising. Another important distinction is between full-service and specialist agencies. Full-service agencies offer a wider range of services, including media buying, creative development, and even PR and marketing consultation. Specialist agencies, on the other hand, tend to be focused on a particular area of expertise, like SEM or social media marketing.
So, what does all this mean for ad spend management? It's important to understand the strengths and weaknesses of each type of agency before deciding which one is right for your business. If you need help with media buying, for example, it makes sense to work with an agency that has experience in this area. On the other hand, if you're looking for help with developing an ad campaign from scratch, a full-service agency may be a better option.
4. How Much Does a PPC Agency Cost?
There is no one-size-fits-all answer to the question of how much a PPC agency costs. The cost ?will vary depending on the size and scope of your project, as well as the experience and expertise of the agency you choose. A good place to start is to ask for quotes from several different agencies. Be sure to provide them with all the necessary information about your project so that they can give you an accurate estimate. Once you have a few quotes, you can start to compare prices and services to find the right agency for your needs and budget. Keep in mind that cheaper is not always better – you want to make sure you are getting quality services from an experienced agency that will help you achieve your desired results.
5. What's an Average Monthly Ad Spend?
The amount you should spend on advertising each month will vary depending on your industry, your business goals, your target audience, and a variety of other factors. That being said, there are a few general rules of thumb that can help you determine how much to spend on advertising each month.
First, you should make sure that your ad budget is at least 5% of your overall marketing budget. This will ensure that you're making a significant investment in your advertising efforts.
Secondly, you should consider using a portion of your ad budget to test out new strategies and platforms. This will help you stay ahead of the curve and find the most effective way to reach your target audience.
Finally, keep in mind that your ad budget should be flexible. You may need to increase or decrease it depending on the results you're seeing from your campaigns. By being willing to adjust your ad spend, you'll be able to optimize your results and get the most out of your advertising efforts.
6. How Does PPC Advertising Work?
PPC advertising is a form of online advertising in which advertisers pay a fee each time their ad is clicked. This type of advertising can be used to drive traffic to a website or promote a product or service. To create a successful PPC campaign, advertisers need to choose the right tactics, create relevant ad copy, and design attractive landing pages. They also need to track their campaign results and make adjustments to ensure that they are getting the most out of their investment.
Reasons To Work With Us
As Google Partners, Wesrom has extensive knowledge of Google Ads and is dedicated to paid search marketing. We provide valuable insights and know-how that give our clients a competitive advantage. Our digital marketing services are oriented toward generating valuable new leads and ultimately revenue. Whilst we always keep tabs on metrics such as ad click-through rates, we know what keeps you in business. We measure leads, not likes. Contact us for a personalized quote and let us help you convert leads into customers.